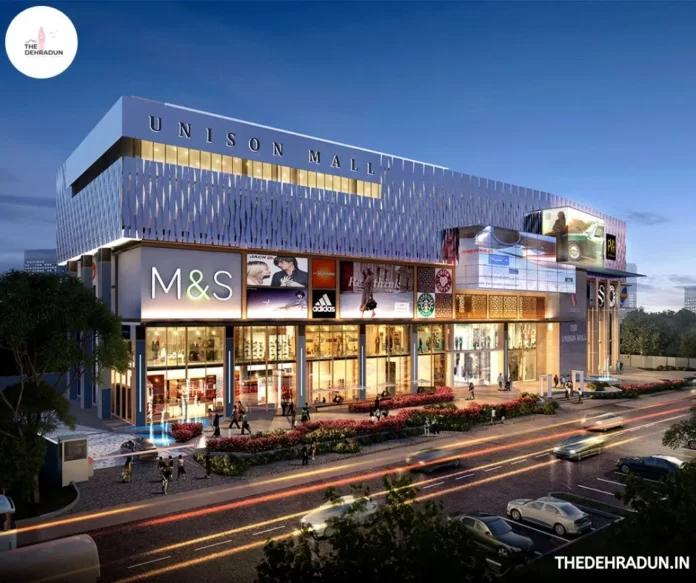 Centrio Mall In Dehradun: Dehradun has constantly demanded to expand and become more urbanized and accommodate the increasing population. Shopping malls in Dehradun are new concepts created to meet the demands of an expanding number of tourists due to their scenic spots, commute options, and educational institutes. While they are not a brand-new addition to the city malls, those in Dehradun are growing in numbers and quality. They are now popular locations for families and students during weekends.
Malls for shopping in Dehradun are plentiful in numbers. Of course, none are more than the amount of hipster cafes and boarding schools. However, it is enough to leave back home with an assortment of 10,000 bags. And to sit for endless hours looking around and having a chat with your bestie while sipping cold brew coffee from your cup. Going out for a day trip on a weekend to the top shopping center in Dehradun is sure to allow you to put your hair down and take a breather.
Centrio Malls In Dehradun ​Unison Group
The mall we'll talk about today is none other than Centrio mall, which the Chief Minister of the city newly inaugurated in this area. Centrio is a unique-of-a-kind mall that gives a full-on retail and leisure experience for those living in the city and surrounding regions. With the opening of the shopping mall, Unison Group aims to provide more than 3000 direct and indirect job opportunities for the youngsters of Uttarakhand.
The development of this shopping centre was undertaken by Unison Group. The Unison Group has its headquarters in Dehradun, India, and their primary concentration is on the education industry, in addition to the commercial and residential sectors. Every one of Unison's businesses runs its operations on its own, albeit with the direction and oversight of an energetic and experienced management team. The Unison firms have made major investments in a variety of geographical locations and utilize a varied workforce across all of our business operations.
In addition, it will increase Uttarakhand's tourism industry's popularity and help improve the state's income. Centrio Mall has been beautifully constructed to offer a memorable experience for tourists. The mall's exterior is as open as it gets, and it has a variety of high-end eateries and cafes that Doonites can visit first-hand in this city. Is. There are parking arrangements that can accommodate more than 500 vehicles. More than 100 top brands will be available, including Shoppers Stop, Starbucks, Smoke House Deli, Caratlane, Marks & Spencer, Timezone Family Entertainment Center, and an all-screen PVR multiplex as a fitness facility as well as a variety of restaurants and entertainment choices.
In the middle of Dehradun, Centrio Mall will cover an expansive 4.5 Lac square foot parking space for more than 500 vehicles. The mall is designed with style to give you an unforgettable experience. We also intend to create a spacious outdoor area that will provide a high-street ambiance, with a selection of delicious eateries, which include some of the finest cafes and restaurants in town!
We'll have an array of activities for all ages, an opportunity to take a break from working or a shopping trip, a friend's birthday, or a special meal with the whole family. You'll find Centrio Mall the ideal location for all this. Celebrations and events will be held at the mall, making it the city's central point of excitement and entertainment.
Places to explore in Dehradun
For a respite from the hustle and bustle of everyday life, there's no better place to explore than Dehradun! 
A perfect weekend trip to the city's top shopping center, a myriad of cafes, and some of the best boarding schools offer the ideal combination of retail therapy, warm conversations over coffee, and takeaways of 10,000 bags – a complete package to help you relax and unwind.
The specialty of the Centrio Mall
Experience an enhanced lifestyle with the launch of Centrio Mall in Uttarakhand! Its breathtaking exterior is just the perfect setting for residents to discover delightful cafés and restaurants. 
Not only that, over 100 premium stores can be accessed inside, which can provide the necessary capacity for more than 500 cars. 
Furthermore, with amenities like Shoppers Stop, Starbucks, Smoke House Deli, Caratlane, Marks & Spencer, Timezone Family Entertainment Center, and PVR Multiplex all at the same spot, the shopping and leisure experience is truly second to none. 
For added convenience, you can also check out the in-house gym or find other exciting venues to chill and have fun.
Looking for fashionable, convenient, and enjoyable shopping?
Look no further than Centrio Mall, the perfect one-stop destination in Dehradun! 
Here, you will find a wide selection of stores such as Marks & Spencer, Shoppers Stop, and Time Zone Family Entertainment Center. Plus, it boasts a PVR five-screen multiplex, tons of food and beverage outlets, entertainment facilities, and even fitness clubs for you to enjoy.
Visit Centrio Mall to shop till you drop, mingle with friends, and just relax with a hot cup!
Centrio Mall in Dehradun promises a 4.5 Lac sq ft. parking area with ample space for 500 cars! 
Be it for luxury shopping, thrilling entertainment, or the delicious treats offered at the eateries, Centrio Mall is the perfect spot for spending some leisurely time.
Have some fun with family and friends, or plan corporate events and special gatherings at the center. 
Experience a truly joyous and enjoyable day out at Centrio Mall – your go-to place for making lasting memories!
Faq for Centrio mall Dehradun