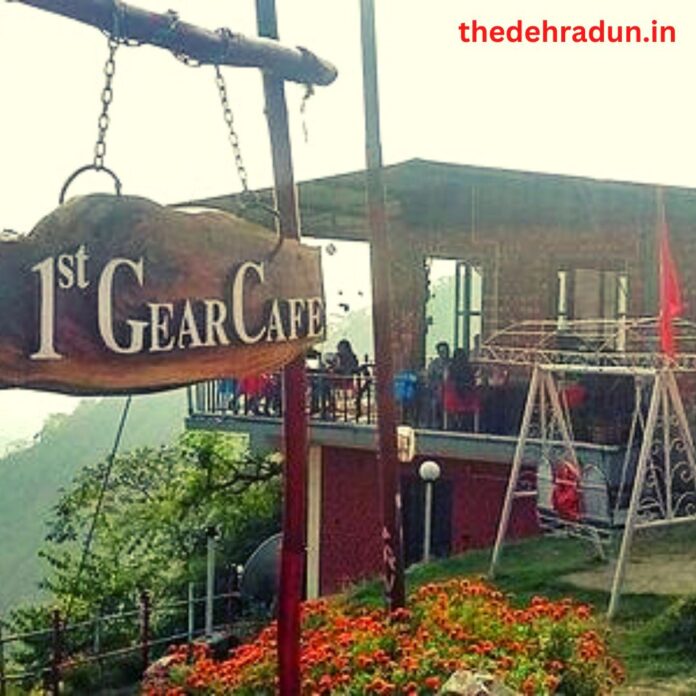 First Gear Cafe In Mussoorie Road
Founded in 2014, First Gear Cafe is located at a strategic point on Mussoorie Road, in the heart of Dehradun, making it a favorite of foodies who appreciate its vast menu. First Gear Cafe boasts sumptuous delicacies which never fail to please the discerning palate and offers an amazing culinary experience for those in and around the neighborhood. Not only is the food lip-smackingly delicious but it's also incredibly convenient to get to First Gear Cafe with minimal fuss, making it the go-to restaurant for those seeking a delightful dining experience.
If you are looking for an excellent dining experience, then look no further than First Gear Cafe in Dehradun. This establishment has all the necessary amenities for a great time, like valet parking, outdoor seating, WiFi, and a TV screen. The ambiance is casual, and the noise level is moderate. The restaurant is open from 09:30 am to 10:00 pm so you can make sure you're in time for a delectable meal. They offer an array of options at very affordable prices, starting from 2 and going up to a maximum of 750 for two. The payment modes they accept include cash, master card, visa card, debit card, and credit card. And to make things even more interesting, they can even accommodate birthday parties and candlelight dinners!
The cuisine offered by First Gear Cafe Dehradun Mussoorie
First Gear Cafe has been around for many years and has quickly become the go-to spot for locals and tourists alike. Offering some of the best Indian, continental, and Asian food, they truly have something for everyone. You can enjoy delectable dishes like channa masala, classic beef dishes, and chicken 65, among many other dishes, cooked to perfection with just the right combination of spices and flavors.
The beautiful breathtaking view from First Gear Cafe
Apart from the mouth-watering food, First Gear Cafe offers something that many restaurants in Mussoorie don't— a perfect view. The breathtaking views of the hills in the background and the majestic Shivalik Range are a delight to the eyes. Even if you're not looking to take pictures, simply being in the presence of this awe-inspiring nature will surely put a smile on your face.
Subsequently
If you are looking for an adventure on the mountainside and don't want to give up on the deliciousness of the food then First Gear Cafe Mussoorie is the best place for you. This café located on the road of Mussoorie offers its guests to relish scrumptious food items with mesmerizing views of the surrounding hills and valleys. You can enjoy different local and foreign cuisines here while feeling a sense of peacefulness in the air. If you're traveling to Mussoorie, it's highly recommended to give this place a visit and make sure to click pictures to share with your family and friends. Bon Appetite!
Vegetarian Friendly, Vegan Options, Gluten Free Options
MEALS
Lunch, Breakfast, Dinner, Brunch
CUISINES
Indian, Cafe, Fast food, Asian
FEATURES
Takeout, Outdoor Seating, Seating, Parking Available, Table Service
Best Cafe In Dehradun for Taste Special
It is one of the most beautiful places to visit whether you go alone or with friends, with family or with your loved one.
It offers a wide variety of food and beverages (non-alcoholic) combined with the natural beauty of the place which offers a bird's-eye view of the Doon Valley.
The price is also very economical and has a variety of vegetarian and non-vegetarian dishes.
Outdoor seating provides a natural Himalayan season like a meal with nature.
Location Of 1ST Gear Cafe
FAQ for First Gear Cafe Dehradun Mussoorie Road
 In addition to the excellent food and service, First Gear Cafe also offers WiFi and live music on the weekends. There is plenty of seating both indoors and outdoors.
First Gear Cafe offers a wide range of mouth-watering and delectable food. The menu comprises North Indian, Continental, and Chinese cuisines that will tantalize your taste buds.
Yes, we do provide takeaway services at First Gear Cafe in Mussoorie. Our friendly staff will prepare and pack your food with extra care so that you can enjoy it later in the comfort of your home.