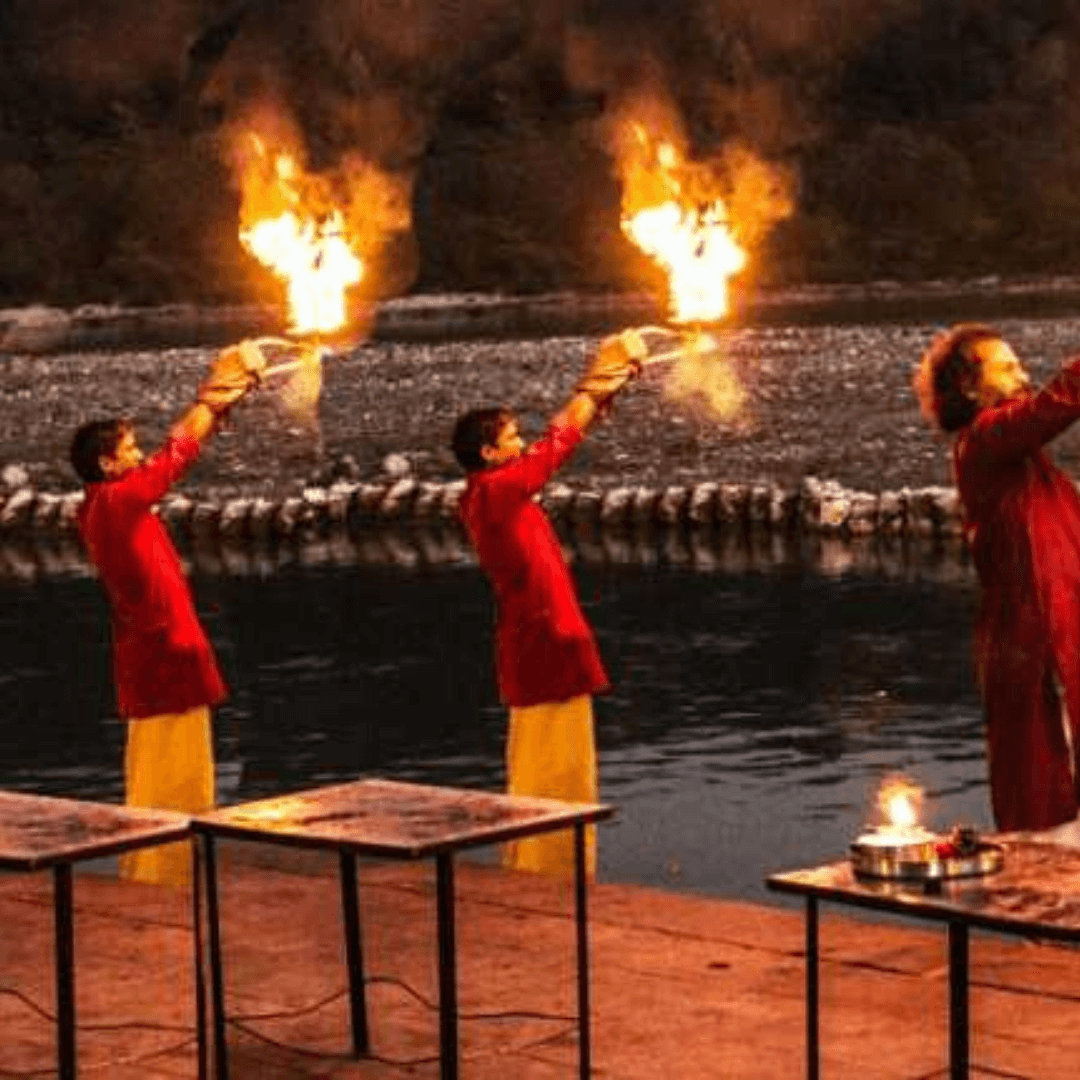 Ganga Aarti Rishikesh Uttarakhand
Every day in Rishikesh, the divine Ganges is adored at many ghats, but two stand out and draw large numbers of people for Ganga Aarti – the Parmarth Niketan and the Triveni Ghat. As the sun begins to set and night starts to fall, the melodic tunes of bells, the pleasant aromas of burning incense, and the prayers offered to the Ganges create a divine ambiance. The calm yet tranquil atmosphere enthralls every individual. Even in this digital era, this centuries-old ritual holds the hearts of all who come. There is no greater spectacle than that of watching a worshipper light a diya as an offering and letting it drift downstream, with all the worries and prayers that come along with it. To behold such a sight is to experience true serenity and purity of soul.
Triveni Ghat, Rishikesh (Ganga Aarti)
Triveni Ghat in Rishikesh is well-known for the spectacular 'Maha Aarti', celebrated at the ghat every evening. To commence the aarti, the bells in the temples are set off, accompanied by the bhajans being sung and drums and diyas being offered to Ganga. The priest carries large bowls of fire and the atmosphere is filled with chants of mantras. During this aarti, the ghat is lit up with beautiful diyas and offerings of flowers being thrown into the holy river.
Apart from this, many rituals and ceremonies, including mundane and Pindha Shraddha for the ancestors are also held at Triveni Ghat.
Every year during the grand festivals of Ganga Dussehra, Ekadashi, Purnima, and others, Triveni Ghat is the ultimate pilgrimage spot that throngs with devotees looking to absolve their sins and purify their souls. The vibrant morning and evening aartis make this an even more special experience that many would be looking forward to.
One can also simply sit back and enjoy the beauty of this sacred site while taking in the serene energy of the flowing Ganges and its calming breeze. Indeed, Triveni Ghat remains a truly wondrous place that serves as an abode for those looking to purify their inner self and pay their respects.
Parmarth Niketan (Ganga Aarti)
The Ganga aarti ritual is an inspiring sight to behold, with scores of devotees congregating in places such as Rishikesh and the Parmarth Niketan Ashram in the evening hours to pay their respects to the river. As the clock strikes 6 pm, one can observe people light up countless diyas and send them afloat in the water as they chant the holy mantras. Every day, devotees make a point of attending the aarti, either out of respect or to bask in the spiritual ambiance. Watching the sight of all those tiny diyas gleaming in the night is an unforgettable experience!
The Ganga aarti is organized and conducted by Vedic priests, particularly the students learning about the Vedas. This begins with the chanting of some mantras and singing of bhajans in prayers and rituals around a sacred fire, in honor of Agni, the god of fire. The spiritual energy radiates from the fire, inviting peace and positivity into the environment. As a devotee, you can sit and absorb the tranquility or join in singing Bhajans. Daily, a multitude of pilgrims from all over visit to be part of the holy Ganga aarti.
How to Reach Triveni Ghat, Rishikesh
Reaching Triveni Ghat in Rishikesh can be done in various ways. You can choose to take an auto from Haridwar, which is only 10 km away, or you can bring your car and find parking close by. However, please bear in mind that larger vehicles may find it difficult to enter this busy street. 
How to Reach Parmarth Niketan
If you are looking to go to the ashram located on the banks of river Ganga, you have plenty of options! You can either go by taxi, bus or in your vehicle. It's only 500 meters away from Ram Jhula, 15 kilometers away from Haridwar, and 20 kilometers away from Jolly Grant Airport in Dehradun. So whatever mode of transport you choose, the ashram isn't too far off! 
The Ganga Aarti of Rishikesh Uttarakhand is a spiritual event that can truly touch one's soul. Each evening at dusk, visitors to the ghats along the banks of the Ganges River can take part in this powerful ceremony. Performed with devotion and fervor by the Hindu priests of Rishikesh, the chanting and hymns reach far and wide. One can feel the peace, love, and positive vibes emanating from this ritual. During the ritual, camphor is burned as an offering and spiritual enlightenment are achieved.
As the aarti begins and a conch shell is blown, there is a deep sense of reverence. With their eyes shut in deep contemplation and the sounds of holy music ringing through the air, a calming silence descends on the place. Watching this incredible sight, one cannot help but feel a strong sense of awe and connection with something greater. After the aarti is completed, there is a sense of stillness and rejuvenation. The feelings of serenity and beauty created by this experience linger with the onlookers for many days to come.
The Ganga Aarti of Rishikesh Uttarakhand is not only a time of spiritual enlightenment but also togetherness and community. People from different backgrounds and cultures come together to celebrate their faith in a sacred atmosphere. It is a testament to the power of faith, unity, and oneness that bridges religious and cultural differences. The sight of this holy ceremony also draws visitors from far and wide.
Visitors to Rishikesh can truly enjoy a spiritual experience that is incomparable. From taking a holy dip in the river to meditating by the river banks, several activities can be enjoyed while in Rishikesh. However, one of the most incredible experiences is witnessing the powerful Ganga Aarti of Rishikesh Uttarakhand. Not only does this ceremony transport you to a world of spirituality, but it also serves as a reminder that, even in today's world of technology, some traditions will continue to remain forever timeless.