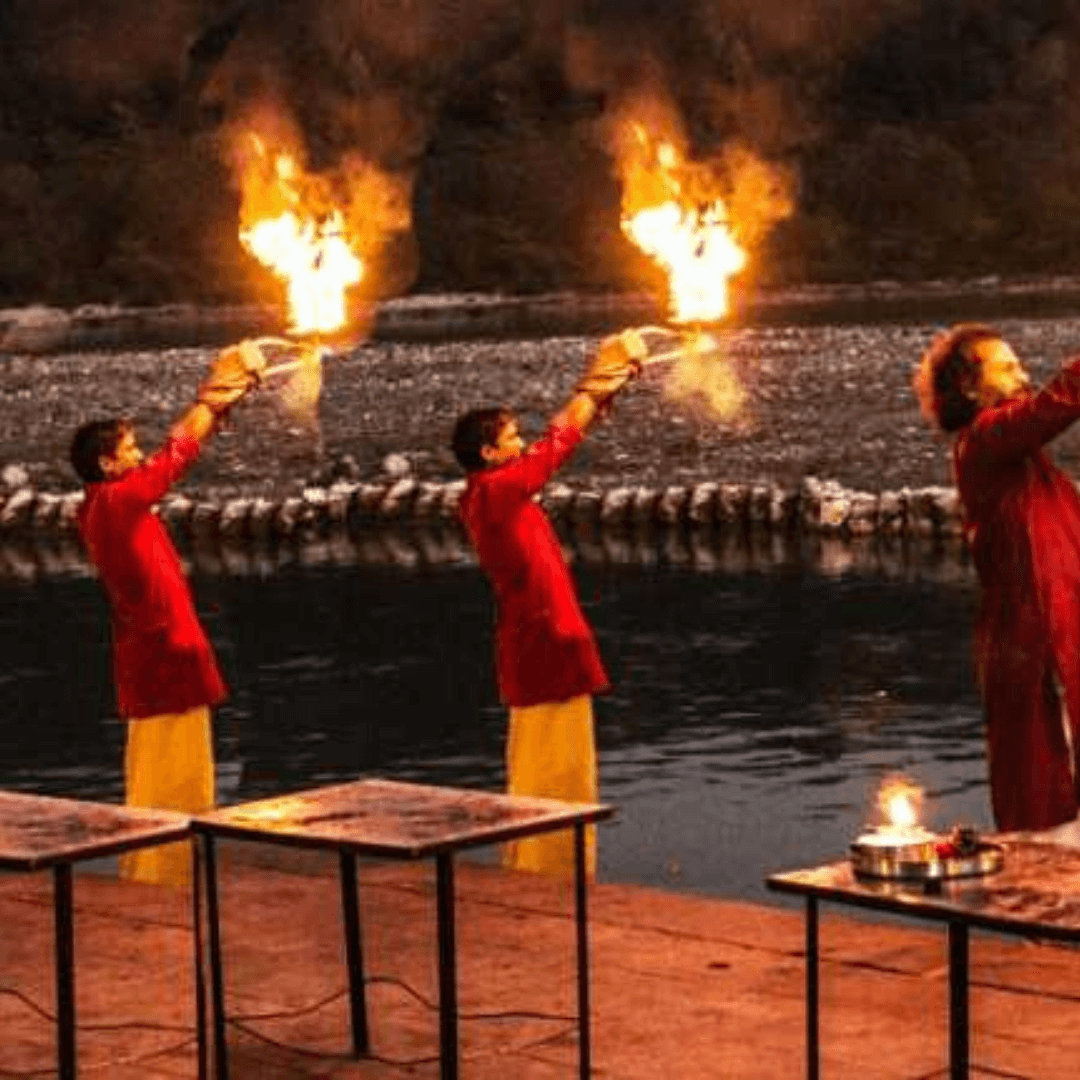 about ganga aarti rishikesh
The holy Ganges is worshipped at various ghats in Rishikesh among which the Ganga Aarti at Parmarth Niketan and Triveni Ghat are distinctively famous.
Ganga aarti in triveni ghat rishikesh
Triveni Ghat is another place in Rishikesh which is famous for its 'Maha Aarti', which takes place at this Ghat. This aarti starts with chanting of bhajan, beating drums, bells and diyas offering to the Ganga. The priest hold large fire bowls in their hands, the bells in the temples at the Ghat start ringing and the chants of mantras flowing out in the air. The Ghat is lighted up every evening at the time of Maha Aarti.
The devotees take diyas and flowers from the Ghat and floats down the river. Other ceremonies like mundan, Pindha Shraddha, for the ancestors are also done at Triveni Ghat. It is the most revered holy bathing place in Rishikesh where many pilgrims takes bath on the occasions of different festivals like Ganga Dussehera, Ekadashi, Purnima etc.
It is believed that those who take bath at Triveni Ghat, they washes all their sins and purifies their soul and they will attain salvation after death. Daily morning and evening aarti takes place at Triveni Ghat where many people witness their presence. It feels good to sit on the banks of the Ganga and enjoy the cool breeze from the river.
Ganga Aarti at Parmarth Niketan
Ganga aarti is a pleasant ritual of worshipping the Ganga. Lots of people visit the Ganga aarti everyday at 06:00 pm – 07:00 pm (Daily). It is beautiful to see so many diyas floating in the Ganges. In Rishikesh, at evening you can find many priest offering aarti to Ganges, but the most famous place for Ganga Aarti is Parmarth Niketan Ashram. It is famous for its Ganga Aarti at dusk among tourists as well as devotees.
It is organized and performed by Vedic priest, particularly the children who are studying about the Vedas there. Aarti starts with chanting of some mantras, singing of bhajans, prayers, and sacred ritual that take place around a fire, with the aid made to Agni, the god of fire. The fire spreads the positivity in the surroundings. You can sit calmly and fold your hands or join the singing Bhajans with them. Daily many pilgrims visit the Ganga aarti.
how to reach triveni ghat ishikesh
You can hire auto for this place from Haridwar which is 10 km from this place. If you have your own car then there is parking near at Triveni Ghat where you can park your vehicle. Bigger vehicles can't come here as the road to Triveni Ghat is often busy street.
How to reach Parmarth Niketan
You can go by taxi, by bus & by your private vehicles. The ashram is located at the banks of river Ganga. Its only 500 mts from Ram Jhula, 15 km from Haridwar and 20 km from Jolly Grant Airport, Dehradun.
Location
In Rishikesh At Triveni Ghat & Parmarth Niketan, Rishikesh
Exploration Time
2 hr