Bhadraj Temple in Mussoorie
Bhadraj temple is located in the western region of Mussoorie, Bhadraj Temple is dedicated to Lord Bal Bhadra and also known Balram brother of Prabhu Shri Krishna. Bhadraj Mandir is Located at the top of the hill and the fresh air and the atmosphere of the place feel calm and peaceful.
you have to offer butter, milk, ghee, and products made from pure ghee at the temple. Balram is cleaned and purified with milk and just nothing else.
And don't bring non-veg and alcohol things. every single year the committee of Bhadraj Temple organizes a fair from 15 August to 17 August. When the Annual fair comes then there is a large number of devotees from around Mussoorie. There are unique cultures and traditions of the people and a good way to revisit their roots and bond with others.ttis, pulvinar dapibus leo.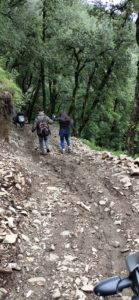 Day 1: Library End – Dudhil (7kms/3-4hrs)
you will have started the trek from Library Road in Mussoorie. and from the library end, you'll walk towards clouds end covering a distance of around 5 km. The route from Library End goes by beautiful Victorian-style houses. The trial is decent with greenery and cool airs accompanying you.and after you have reaching cloud's end you will hike towards Dudhil also known as The Milkman's village. Dudhil view is just Awesome. You can camp at Dudhil and after that start your journey towards bhadraj Temple the next morning.
Day 2: Dudhil – Bhadraj Temple – Cloud's End (16kms/8-10hrs)
At the early morning trek from Dudhil and it will take 3hrs estimate to reach Bhadraj Temple. the view from the temple at the top of the hill makes the climb worth it. And if you wanna leave for Cloud's End on the same day then you can.
Location of Bhadraj Temple
Bhadraj Temple is located in Near Mussoorie Uttarakhand and it's around 10 to 11 km trek from clouds End, Mussoorie.
Bhadraj Temple Significance
What You Carry For Bhadraj Temple
Trekking shoes
Mosquito Repellent
Sunscreen
Sunglasses
Raincoat
Flip Flops
Camera
Flashlight With Extra Batteries
Backpack with all essentials